Keynotes
Keynote 1: Giulio Sandini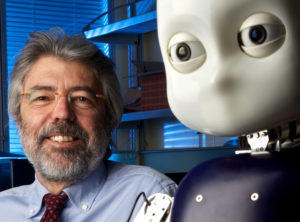 When: 10:00-10:50 on Thursday 16th
Title: Why humanoids (?)
Abstract:
Since the first "modern" humanoid robot built at Waseda University in the '70, research based on the use of robots with anthropomorphic shape has expanded enormously by contributing to and exploiting the advancements of "general robots" technologies. However, if on one side the sensory and motor abilities of robots are approaching those of humans, on the other the current belief is that robots in different forms and shapes (e.g. autonomous cars) will become ubiquitous in the future entering our everyday live. Therefore, besides the curiosity driven scientific interests in building robots with an anthropomorphic shape, it is worth asking which is the added value of anthropomorphism in advancing robotics toward the science fiction world described by Asimov where humans and robots co-exist and collaborate. Is the hypothetical added value limited to suggesting solutions to facilitate robot's interaction with a human-centered world (such as robot hands to use tools or legs to climb stairs) or there are major missing ingredients that humanoid robotics can help us to identify and develop? During the talk I will argue that, besides the "explicit humanoid" embedded in the robot's physical shape there is a "hidden humanoid" which, irrespective of the outside appearance of its body, will be a fundamental part of any robot interacting safely with humans. I will also argue that humanoid robotics, besides advancing the technology of the "explicit humanoids", can serve a unique role in advancing the knowledge of the "hidden humanoid" by joining forces with the communities studying the cognitive aspects of our being humans.
Bio:
Giulio Sandini is Founding Director of the Italian Institute of Technology and full professor of bioengineering at the University of Genoa. After his graduation in Electronic Engineering (Bioengineering) at the University of Genova he was research fellow and assistant professor at the Scuola Normale Superiore in Pisa until 1984. During this period, working at the Laboratorio di Neurofisiologia of the CNR, he investigated aspects of visual processing at the level of single neurons as well as aspects of visual perception in human adults and children. He has been Visiting Research Associate at the Department of Neurology of the Harvard Medical School in Boston. After his return to Genova in 1984 as associate professor he founded the Laboratory for Integrated Advanced Robotics. In 1996 he was Visiting Scientist at the Artificial Intelligence Lab of MIT. In 2006 he established and is now directing the Robotics, Brain and Cognitive Sciences department at the Istituto Italiano di Tecnologia. The department's multidisciplinary research staff is composed of researchers with different backgrounds (engineers, biologists, psychologists, mathematicians, physicists, medical doctors) sharing "human centered" Scientific and Technological interests and addressing four, strictly interconnected, streams of research: Cognitive Robotics; Motor Learning, Assistive and Rehabilitation Robotics, Dynamic Touch and Interaction, Spatial Awareness and Multisensory Integration.
The website: www.iit.it/rbcs
Keynote 2: Shuuji Kajita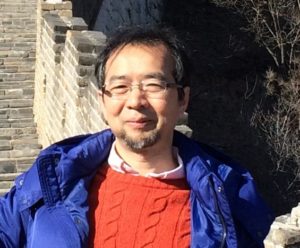 When: 10:00-10:50 on Friday 17th
Title: The long and winding history of biped robot research
Abstract:
In this talk, I will express my personal view of the history of biped robot research. As one of the important origin of this field, I will explain the work of a British scientist, David C. Witt. In the early 1970s, he studied powered lower-limb prostheses and made a pioneering formulation of inverted pendulum dynamics. Of course, the Zero-Moment Point (ZMP) of Vukobratović and Stepanenko is another important foundation of biped robots. However, except the group of Kato and Takanishi who realized the first ZMP based biped control, most of the researchers did not use ZMP but preferred inverted pendulum based approach in the 1980s and the early 90s. It has changed when HONDA revealed their humanoid robots using ZMP and its importance was widely recognized. A lot of valuable papers were published after that. Interestingly, most of the progress was achieved by the mixture of ZMP and inverted pendulum dynamics.
At the end of my talk, I will emphasize unsolved problems remaining in this field. For example, yet we are frequently asked from ordinary people, "Why do the robots walk with bending their knees?" I will try to answer this question by introducing a new concept Spatially Quantized Dynamics.
Bio:
Shuuji Kajita received M.E. (1985) and Dr.E. (1996) degrees in control engineering from Tokyo Institute of Technology, Japan. In 1985, he joined the Mechanical Engineering Laboratory, Ministry of International Trade and Industry. Meanwhile he was a Visiting Researcher at California Institute of Technology, 1996-1997. Currently he is a chief senior researcher at the National Institute of Advanced Industrial Science and Technology (AIST), Tsukuba, Japan, which was organized in April 2001.
His research interests include robotics and control theory. He is a member of Society of Instrument and Control Engineers, Robotics Society of Japan, IEEE (Robotics and Automation Society), and the Japan Society of Mechanical Engineers. His recent book is Introduction to Humanoid Robotics, coauthored with Dr. Kensuke Harada, Dr. Kazuhito Yokoi, and Dr. Hirohisa Hirukawa published from Springer in 2014.